Objectives of Talking Maps
The development of detailed maps is in full development, which requires large amounts of sensor data. There is no industry standard of a High Definition map yet.

The objective of the Talking Maps trial is to:
To explore which data elements can be added to a map, using standard sensor data from road manager vehicles, and with what reliability, usability and frequency these data elements can be made available for use by public authorities (asset management, possibly traffic management applications);
The standard sensor here refers to an intelligent vision sensor, characterised as ADAS in normal use. This sensor is also used to examine which data elements are missed that are essential for the final process. It is out of scope to still be able to acquire these missed elements with alternative sensors;
Explore the value of this data and maps or other datasets, given the developments in CAD (level 4,5), both nationally and internationally;
To actively involve and enthuse road authorities in smart mobility developments.
Approach project
The development of sensors and connectivity, which can help develop HD Maps, is moving fast. Among other things, the aim is to get the most complete digitised picture of the road, for automated transport. Generating additional data, by deploying road manager vehicles, can contribute to the development of detailed maps. Road manager vehicles were deliberately chosen because they always operate in a limited area and drive the same route more frequently. This allows better comparison of the data collected.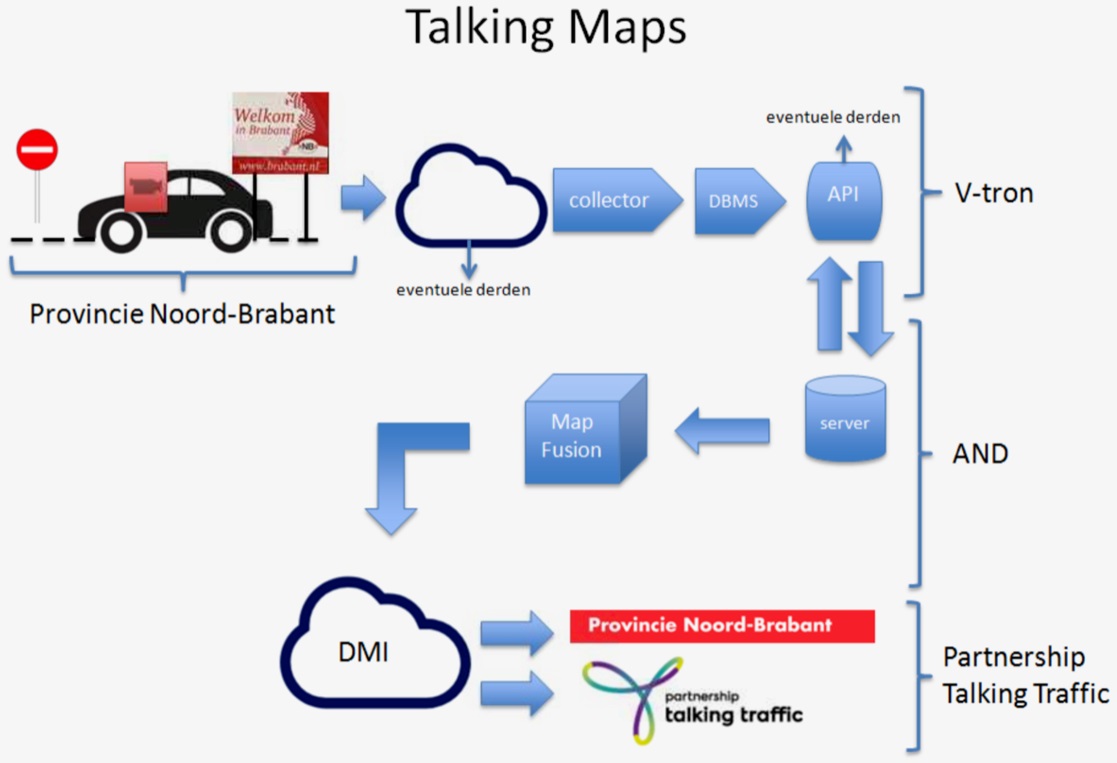 Research questions include:
How quickly can additional data from road manager vehicles be turned into a usable map?
How useful and complete is that material in relation to the desired purpose of use (both CAD and smart asset management)?
To what extent does the resulting map contribute or deviate from international map standards?
To what extent can this data contribute to validation of data from other sources for HD maps?
Results achieved
This is a proof-of-concept of up to 2 years. A test will be carried out to see what balance can be found between collection effort, standardisation/uniformisation (quality and usability of map material) and contribution to ambitions and operations of companies and governments.
The following added value is seen for asset management:
Efficiency through targeted functional inspection. The visual inspection of the entire area could possibly be reduced from twice a week to once a week.
By making the data available to the contract partners, fewer kilometres need to be driven and signs are replaced more quickly.
Better service for road users and shorter response times. Signs and changes in digital sign visibility.
This can lead to cost savings (material, equipment, man hours). When using contract partners, these cost savings can lead to lower prices. More efficient deployment of own vehicles can also lead to cost savings. Or other deployment by vehicles allowing faster response to IM alerts. WIS vehicles that are on the road for inspection stop inspection as soon as an IM notification is received, where the highways inspector is in the vicinityDigital maps cannot be a partial or complete replacement for physical signs for now.
Challenges
Privacy
The vision sensor is not a traditional camera and does not in any way 'video or photo record' the situation outside the vehicle. Objects on and off the road are 'recognised', and in case of this detection, data is sent. This is an event-driven communcation, where the event in the sensor is detected and typed. Only this typing data is communicated. These events are not timestamped and therefore cannot be tracked or traced. Potentially privacy-sensitive elements such as license plates and characteristics of other road users are neither recorded nor shared.
Data quality
Depth measurements

: distances to objects and therefore location of objects. Location is determined using GPS in the on-board unit (CANbus) and has the known limitations of GPS in this area.

Confidence levels

: the more often an object is observed, the higher the confidence levels with which the object is presented in the data..
These companies and agencies preceded you, among others:
Interested in our products or services?