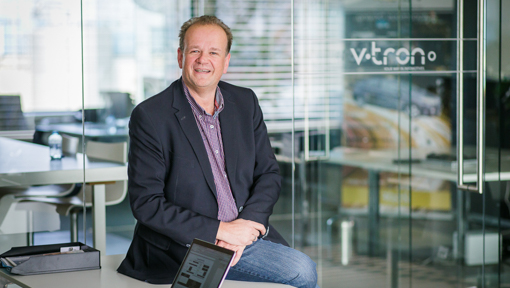 WALK MY TALK - Wim Vossebelt, CEO
" If you're working on innovative techniques, trust is an element that you can not ignore. We are successful because we put the needs of our customers at the top. Anyway, always. The demand from our customer gets all the attention. Because we want that for every customer, our individual solution is without doubt the best. Although the working area of ​​V-tron is mobility, there are a number of values ​​that the company carries. I believe in harmony, in equality and in responsibility. That seems far removed from our products and services, but because we can provide insight into everything that is mobile, we can be the step up to make things manageable. If you want to distribute capital in harmony, you first have to look at how we use that capital. By monitoring well you can realize the 'the user pays' principle. That everyone bears responsibility for what he does. Subsequently you can influence the user if desired. In terms of technology, we as humans already invented everything, we have not always found the right applications. For example, if you are going to see mobility as a service, then there are all kinds of challenges that require technical solutions. V-tron would like to play this role by using the technique as an enabler. Thinking outside the borders, learning, making possible, these are the activities that we cherish at V-tron. Responding quickly, thinking along, working together, giving attention and creating individual solutions, that's what we have for our customers. "
MISSION & VISION OF V-TRON
MISSION:

V-tron believes in harmony, self-determination, equality and responsibility. A maximum user experience is central to this.

V-tron wants to fulfill the wishes and needs of users with suitable solutions using innovative techniques.
VISION:

Within the vision of V-tron, the three pillars of mobility are central from a user's perspective:
trafficflow, safety and sustainability.

Due to the speed of technological developments and the demands / desires of the user, a lot changes in the area of ​​mobility. We expect a retreat from the authorities in this field. All roles regarding mobility will be revised and redefined in the coming years. This needs to be anticipated not only for V-tron, but also all affiliated chain partners involved in the daily operation in the mobility chain. In this complex playing field it is impossible to fulfill this task alone, working together is the appropriate model. Only with the right partners it is possible to create an appropriate user experience.