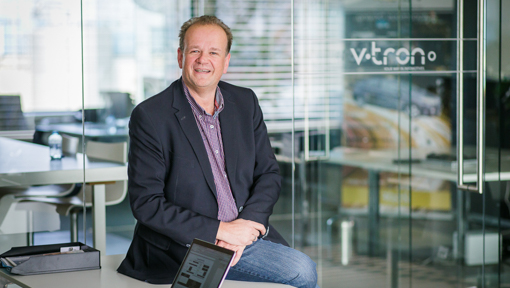 WALK MY TALK - Wim Vossebelt, CEO
"When you're in the business of innovative technologies, trust is an element you can't ignore. We are successful because we put our customers' needs first. Either way, always. Our customer's demand gets all the attention. Because we want that for every customer, our individual solution is without a doubt the best.
While V-tron's field of work is mobility, underneath it are a number of values that carry the company. I believe in harmony, in equality and in responsibility. That seems far removed from our products and services but because we can create insight into all things mobile, we can be the stepping stone to making things manageable. If you want to distribute capital in harmony, you first have to look at how we use that capital. By monitoring properly, you can achieve the "user pays" principle. So that everyone bears responsibility for what he does. Then, if desired, you can influence the user.
In terms of technology, we as humans have already invented everything, we just haven't always found the right applications. If you start seeing mobility as a service, for example, all kinds of challenges will arise that require technical solutions. V-tron wants to play that role, by using technology as an enabler.
Thinking outside the box, learning, enabling, these are the activities we cherish at V-tron. Responding quickly, thinking along, working together, giving attention and creating individual solutions, that's what we have in house for our customers."
MISSION & VISION OF V-TRON
V-tron believes in harmony, self-determination, equality and responsibility. Maximum user experience is central to this. With innovative techniques, V-tron wants to meet the wishes and needs of stakeholders (users) in the mobility and logistics domain by creating appropriate solutions.
Within V-tron, from the perspective of the user, the three pillars of mobility are central:
Sustainability, Safety and Traffic Flow.
The speed of technological developments and user demands/wishes are causing major changes in the field of mobility and logistics. V-tron expects a retreat of governments from this field. All roles in the field of mobility and logistics, will be reviewed and redefined in the coming years. All affiliated chain partners who, like V-tron, are involved in daily operations in the mobility chain must anticipate this. Cooperation is essential here, because in this complex ecosystem it is impossible to accomplish this task alone. With the right partners, we look for the innovative opportunities to create an appropriate user experience.
Interested in our products or services?