V-tron Carsharing: V-tron is introducing its new business line: "Car Sharing" specially designed for the business market so that it can use its fleet as simply and efficiently as possible. Every vehicle is used much more efficiently by car sharing. The user can quickly make use of "temporary" transport in a simple way.
The user reserves a vehicle via a reservation system and can then pick up the vehicle at an agreed location and time with a special reservation card (Chip card). After use, the vehicle can be returned and logged off with the reservation card.
The V-tron Car Sharing Kit ensures cost-effective and reliable communication through the online car sharing reservation and management system. The online system provides a range of services, such as management of reservations, live vehicle tracking, (ride) reporting, fuel consumption and various security options.
<iframe src="https://youtube.com/embed/gVMDaTwI9Lk?autoplay=1&rel=0&vq=hd720" width="500" height="400" frameborder="0" allowfullscreen="allowfullscreen"></iframe>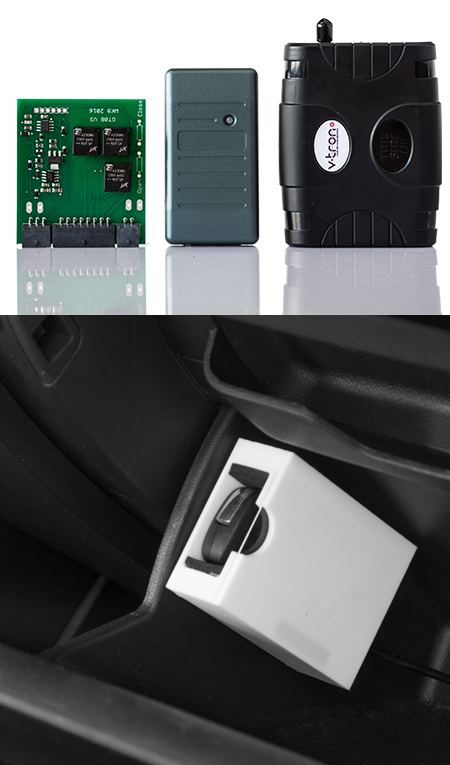 Fleet management- and Car sharing features By using an RFID reader that is mounted on the windshield, the vehicle can be locked or unlocked by scanning the active reservation card on the reader. All (driving) information, such as real-time mileage will be sent to the online car-sharing management system. In addition to the RFID reader, there is also the possibility to open the vehicle with a smartphone. Hereby, a QR-code enables this action, which is installed on the windshield of the vehicle. This option is for the business market often useful, given the density of users of smartphones in the market. This option is also ideal for vehicles with limited duration, concerning the installation and reinstallation costs. Non-communication functionality: In areas where there is no GSM coverage, the system can identify the customers constantly. This is particularly relevant for entrepreneurs, who have parked their vehicles in the garage or in remote areas. Self-service: The system can be used for both pre-ordered and spontaneous reservations. Master key-cards: Within the system, master magnetic keys can be used for operational staff, e.g. for the recall of vehicles. Driver Behaviour: The car-sharing solution can provide real-time a variety of warning, in terms of driving behaviour. These flexible features include:
Speed
Warns if the vehicle runs too long stationary.
Sudden acceleration / deceleration
Sudden change of direction (sharp/dangerous curve)
Real-time tracking / warnings / instructions: The Car Sharing solution provides real-time information about the location and status of the vehicle. In addition, the system can receive either automatic or manual commands. This works as a kind of "remote control". In addition to these functions, the following commands and messages can be enabled:
Warning: Low battery voltage
Fuel Status
Door status (open / closed)
Lock / unlock door
Active / deactive immobilizer
Vehicle horn
Car-Kit (hands free): Allows the Car Sharing user to make and receive calls in the vehicle. To prevent abuse there only can be called with one, pre-programmed number. This number can be chosen freely, which is often the helpdesk. Fuel Level Measurement: By making use of a Fuel sensor, one can measure the fuel status of the vehicle. This option can also be obtained on any fuel card, e.g. MTC, TC or Shell.
Interested in our services?