Objective of yDrive
Conventional road transport can in practice save up to 20 per cent fuel if it starts using electric-powered semi-trailers.
A consortium of six organisations is therefore joining forces to develop an electric powertrain for road freight transport.
A consortium of six organisations is therefore joining forces to develop an electric powertrain for semi-trailers in road freight transport.
Under the name yDrive, the parties aim to develop a drive technology to further reduce consumption and contribute to reducing CO2 and harmful emissions.

Road freight transport is in a transition to zero emission transport. For this, the trucking industry is fully committed to electrification of the fleet. This is of great importance to ensure that emissions are reduced and climate targets are met.
In addition to the electrification of trucks, we are also looking at how conventional road transport with a diesel truck can operate even more cleanly and economically. This is essential in the transition period.
Approach project
The yDrive project is aimed at electrifying a conventional semi-trailer.
yDrive consists of an electrically driven axle, a rechargeable battery pack, kingpin sensor and a smart controller that functions both with and without communication with the truck.
This technology creates a hybrid combination where, during deceleration and downhill driving, braking energy is regenerated and stored in a battery pack of the trailer.
During acceleration, energy from the battery is used to power the semi-trailer. This supports the truck to get out of its place and therefore consumes less fuel. This allows the truck to be equipped with a smaller engine. yDrive can also serve as a 'range extender' for BEV or FCEV trucks.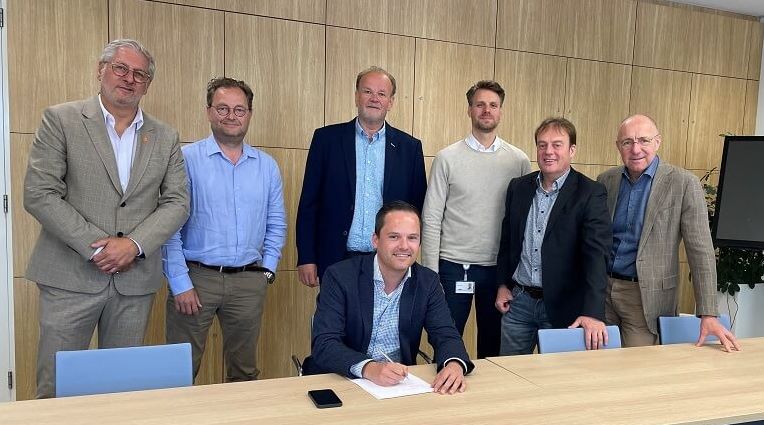 Picture: the consortium partners undersign the agreement
Expected results
De technologie heeft een groot besparingspotentieel.
Het project mikt op een CO2- en brandstofreductie van 20% in stadsdistributie, 15% in regionale distributie en 10% bij lange afstandsvervoer.
Jaarlijks worden er gemiddeld 12.500 nieuwe opleggers geregistreerd in Nederland en meer dan 200.000 in Europa. Het complete wagenpark in Europa is zelfs groter dan 3 miljoen opleggers.
Het goederenvervoer over de weg is verantwoordelijk voor circa 9% van de wereldwijde CO2 uitstoot.
Challenges
If the entire fleet were equipped with yDrive, more than 1% of total CO2 emissions could be reduced with a product that should pay for itself within the economic lifetime of the trailer.
Project yDrive is partly made possible by Flevoland province and the Ministry of Infrastructure and Water Management's DKTI-Transport scheme. The DKTI is a scheme to encourage more sustainable road transport.

These companies and agencies preceded you, among others:
Interested in our products or services?